Fashion & Fizz Paint Altrincham Pink
28 February 2019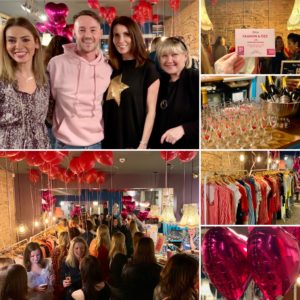 Fashion & Fizz Paint Altrincham Pink!
Thank you to all the ladies who braved the rain last night & came along to Paint Altrincham Pink. We raised over £1000 for Prevent Breast Cancer which was AMAZING, so THANK YOU!!
A BIG shout out to the fabulous team at Gran T's Coffee House for looking after us so well. Also, to the lovely StyleJunky Boutique for bringing along their gorgeous clothes!
A big thank you also goes to all the very generous local businesses who kindly donated prizes for the raffle. These included Skn Clinics, Bistrot Pierre, Neil Barrett Photography, Howard Yuill Hairdressing and Nicky Paddon Bootcamps. As well as,  Zero Gravity Float Spa, JAM,  Betty and Belle Lingerie and Crescent Dental.
With a mantra of PREDICT, PREVENT, PROTECT, Prevent Breast Cancer are the only UK breast cancer charity funding ground-breaking research solely aimed at preventing the disease for future generations.
They hope that their research will one day bring about a world where breast cancer is preventable and thousands of lives are saved from ever experiencing this terrible disease.
Once again, thank you for your support – it really is great to part of such a fabulous community!